Balaramapuram Handloom
Posted by Culture Shoppe Pvt. Ltd.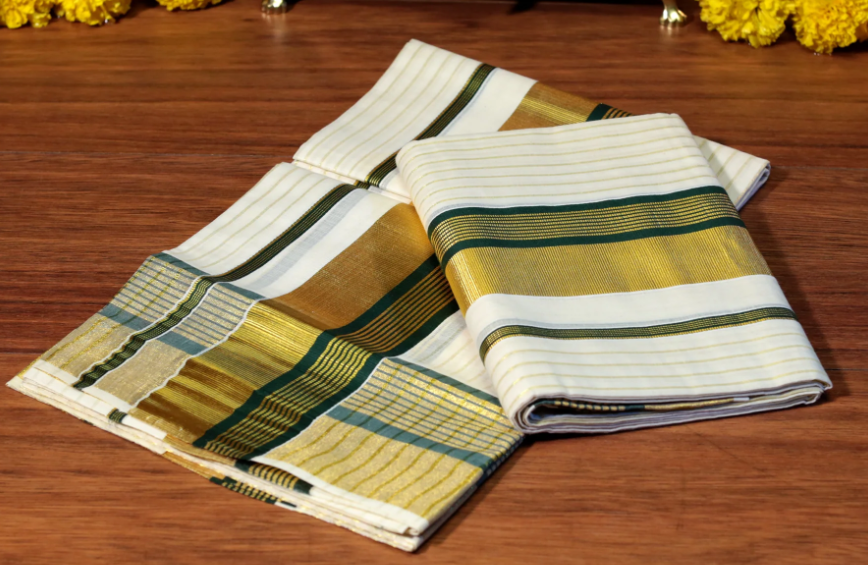 Are you looking out for a perfect Kasavu Saree to commemorate this Onam? Well, here are the traditional sarees fabricated from the handloom village of Thiruvananthapuram, Balaramapuram. Located 15 km away from the city center, the village has numerous units that produce this prestigious Kerala cotton. The sarees and mundus produced here are renowned for their softness and are characterized by their gold-plated silver saree borders, commonly known as Kasavu. These one-of-a-kind products are woven with finer counts of unbleached or kora white cotton yarn. The Government of India granted the Balaramapuram handloom cluster Geographical Indication (GI) designation in 2009 for its distinctive qualities that are unique to its geographic location.
Balaramapuram handlooms are known for their elaborate patterns, craftsmanship, and use of natural materials. The method dates back to the early nineteenth century when the King Balarama Varma of the Travancore kingdom and his chief minister brought a community named 'Shaliya weavers' from Nagarcoil and Valliyoor in Tamil Nadu to weave clothing for the royal family.
This authentic Kerala attire is traditionally made on a pit loom with throw shuttles or fly shuttles. The warp threads are starched to make them stronger and better, able to withstand the stress of weaving. To soften the threads and eliminate any loose fibres, they are sized with a brush while drying. The weaving procedure then starts after manually transferring the warp to the loom. The ancient weaving method has been passed down through many generations of weavers, and because of its originality, it has gained not only international renown but also played a vital part in preserving the region's cultural identity.
The cotton is often purchased from marketplaces in Tamil Nadu, whereas kasavu is typically bought from Gujarat. Today, Balaramapuram is home to approximately 22,000 handlooms, as well as a handful of power looms that produce various textiles including shirts and dress materials.