Onavillu: A Bow of Lore and Penance
Posted by Culture Shoppe Pvt. Ltd.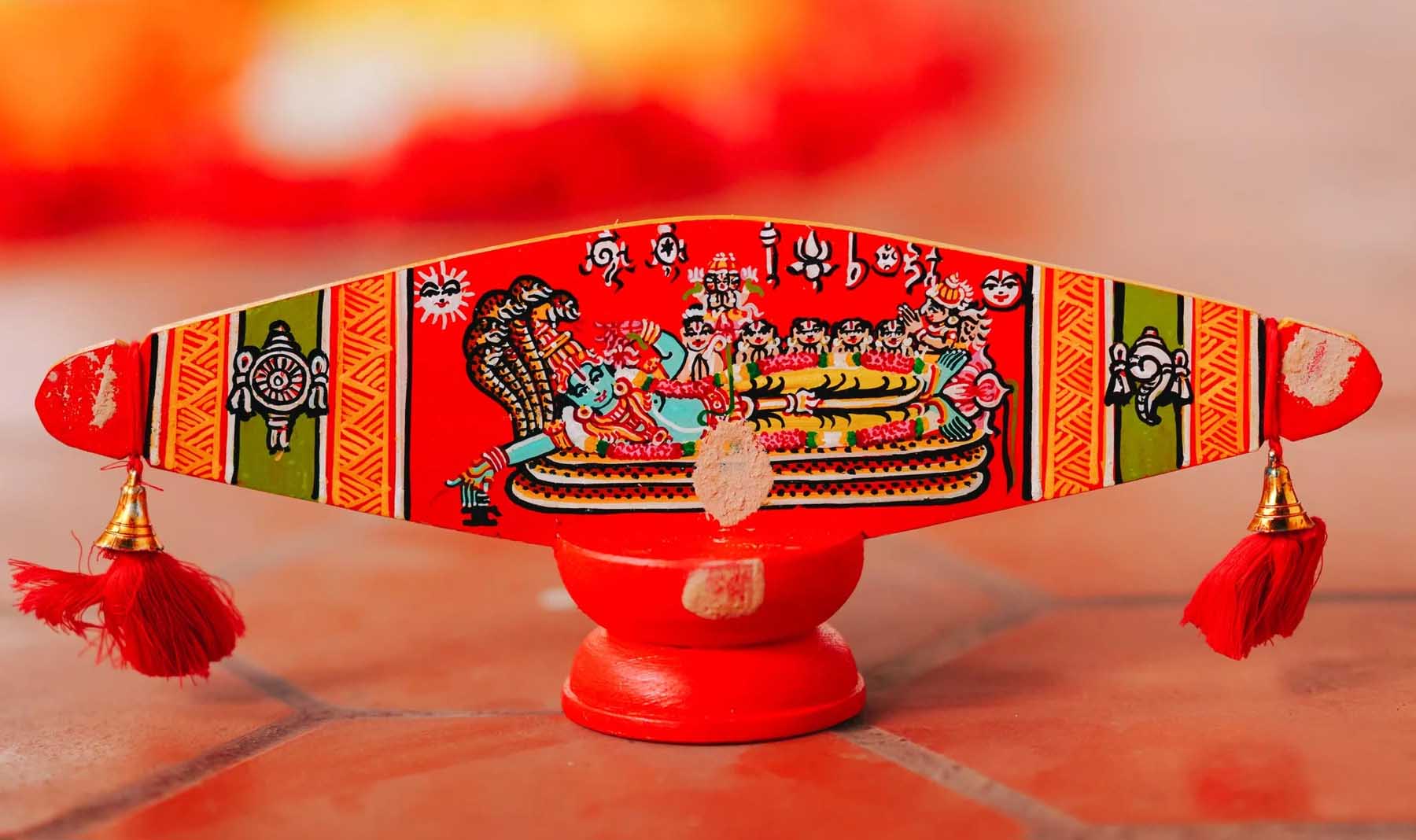 The lore of King Mahabali and Vamana is retold to young ones in Malayali homes every year when Onam is around the corner. But there's a story behind the beautiful Onavillu too. Now regarded as a coveted handicraft, the Onavillu was created by the celestial architect Vishwakarma on orders from Lord Vishnu after Mahabali expressed a desire to see all 10 incarnations (Dasavatharam) of the lord before being pushed to the netherworld. Vishwakarma gave his word to the lord that his descendants would paint the Dasavatharam on mahogany or kadamba (bur flower) wood, Lord Vishnu's favourite tree, well ahead of Onam (when Mahabali arrives from the nether regions to visit his subjects), and offer the bow at the temple where His presence would be most felt. Since then, the Onavillu, are offered to the deity at Sri Padmanabha Swamy Temple, Thiruvananthapuram, on the auspicious day of Thiruvonam, every year. The tradition is continued by artisans from the community, belonging to the Vilayil Veedu family in Thiruvananthapuram, the offering to be made till the last man in their bloodline is alive.
With stories from the Puranas inscribed on them, they are also called Pallivillu. The craftsmen follow a strict penance, from the time they begin making the bows to the time they are offered at the temple. Ideally, work on the Onavillu begins in the month of Midhunam (June - July), according to the Malayalam calendar, with the craftsmen seeking permission from Mother Nature, the animals and the birds to chop down the wood of the Kadamba tree or mahogany for the purpose. The wood is cut to make flat elongated planks and special rituals are conducted before they are polished with sandpaper and the artwork commences.
Showcasing the Dravidian style of painting, the Onavillu is made using only five colours or Panchavarna – white, green, red, yellow and black. Handmade tassels or kunjalam adorn either end of the bows.
Another round of rituals follows on Uthradom, the eve of Thiruvonam. The next day, the Moothashari or master artisan takes the bows to the temple before dawn where it is kept for three days, ie; Thiruvonam, Avittam and Chathayam. The bows are shifted to the prayer room of the palace where the erstwhile Travancore royal family resides. Every year, the Onavillu from the previous year is replaced by new bows.
The bows have undergone changes over time, the depictions now also include other deities apart from the Dasavatharam. The length of the bows, based on astrological calculations, was kept between 4.5 and 6 feet in the past. But now the bows, seen as symbols of prosperity, are also commissioned by private parties or to be presented as gifts and so are available at lengths of 1.5 feet too.